Cookbooks Kathy Can't Live Without
---
---
Are you looking for outdoor cookbooks? The ones listed here are the ones we recommend during our cooking classes. Outdoor specific books are towards the top, other useful cookbooks follow. And, yes, you will find some strange books here!
---
The Outdoor Dutch Oven Cookbook may be a small cookbook, but it is jam packed with great recipes for the beginner or the experienced cook. Be sure to check out the "Impossibly Possible Dutch Oven Ice Cream", it's sure to amaze - and tastes great too!
---
The One Pan Gourmet-Fresh Foods on the Trail offers recipes for doing two night campouts with fresh foods. The recipes are set up for one person meals, so several can be made for a single meal and shared. The author shares how to make a coffee can oven and offers an entire section of food to cook in it. If you quadruple the recipes in the oven section, they fit nicely in a regular Dutch oven.
---
Roughing it Easy is the classic outdoor cooking resource for backpackers, low impact campers, and people who want to do it the hard way. The recipes and advice Dian provides is always up to date and well founded. Check out the section on planking meat for a unique and delicious experience.
---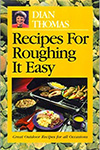 Recipes for Roughing it Easy contains information and tips on cooking, plus the best of Dian's recipes. I strongly recommend the Aluminum Foil and Novelty Cooking sections. Reading them is great fun, putting them in practice is more fun, and eating the results is the best!
---
I can't say enough great things about Cooking the Dutch Oven Way. This is one of the first outdoor cookbooks we ever bought. We have used it so much, that we wore the cover off. It doesn't go to class anymore, but it still gets used! Most of the recipes here use only a few ingredients, so this makes a great cookbook for the beginning Dutch oven user.
---
Dutch Oven Cooking is the other classic Dutch Oven cookbook in our collection. It hasn't lost the cover yet, but it has stains all over from the great recipes! The recipes are classics, the hints are great, and the humor in the scattered hints is terrible. If you like fun with your cooking, check this out.
---
This book, Gorp, Glop, and Glue Stew is one of Kathy's favorites, but Bruce doesn't care for it. It has different recipes, with notes and stories for each. Some of the recipes are a little more healthy than the general outdoor cooking book - That is probably why Bruce doesn't like it as much!
---
---
---