What is a Liner Pan? Why Should I Use One?
by Kathy and Bruce Jacobs
---
---
Why use a liner pan?
A liner pan is not required for most of our recipes however we suggest you use one for several reasons.
We have done many cooking demonstrations with children. The liner pan is much cooler to the touch than the oven which may still be over 400 F when you are serving the food. The liner pan will return to temperatures below the boiling point of water almost instantly after being removed from the heat. Much less of a risk of burns when brushing against it.
Much less likely to melt the table or table cloth.
Cleanup is easy.
The seasoning of the cast iron is protected from acidic foods.
If you mess up and put too much heat on the bottom you are much less likely to burn the food.
Food can be removed cleanly and displayed nicely at the table with no ashes or dirt.
A Dutch Oven can sometimes be used for more than one recipe in a single meal.
Some folks line with foil. There is no wasted foil and no chance of the foil leaking.
No need for soap to touch the cast iron during cleanup. Health inspectors can see that everything that touches the food has been washed in soap.
We test the recipes almost exclusively with liner pans. The timing and steps may change in some cases if you do not use a liner pan.
10.5. Did I mention the cleanup is easy?
What do you use for a liner pan?
We use any pan that fits inside the Dutch Oven and is intended for cooking. Be sure that the pan you get is short enough that the food doesn't touch the roof of the oven and small enough in diameter to allow air flow around it. If you go to a specialty cooking store you will find a large variety of "cake pans" available.
While this is not intended to be an endorsement, here is a picture of a Wilton pan that is something like what we use: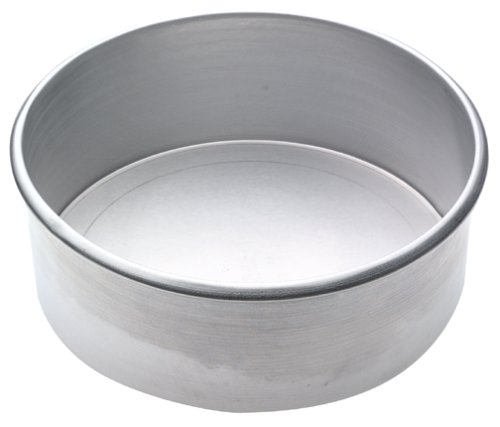 The one we have like this is a different brand but the same shape. The sides are three inches high. You can also use a stock pot with the handles removed.
You can use stainless steel bowls with flat bottoms as well. We also have a few of the round cake pans which have 1 inch high sides. Yes, you have to be careful not to over fill the flat pans.
Most of the pans we have, we use over and over again. However sometimes we do use the deep foil pans and throw them away afterwards.