The Best Meatloaf Ever!
by Kathy and Bruce Jacobs
---
---
This is not only my favorite recipe, but one of the most requested recipes for our classes. Because the ingredients are basically those of hamburger (plus a couple of things), even kids love this meatloaf!
This meatloaf recipe has been a standard in my family since I was a very little girl. While most kids seem to not like regular meatloaf, my sisters and I all love it - as long as it is barbecued! My mother made it regularly, and it disappeared every time. When I grew up and had a home of my own, it also became a staple in my house. We serve it with baked potatoes and peas. When we started teaching outdoor cooking, we decided to adapt my mother's recipe for outdoor use. This recipe has been made at many of our classes and outings. It gets rave reviews every time!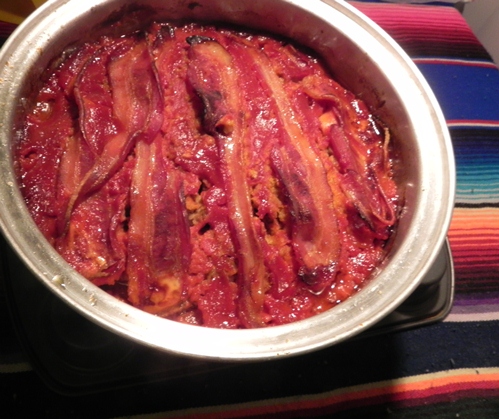 Ingredients
Meatloaf Ingredients
1 lb. Ground Beef
1 Egg (slightly beaten)
3/4 c. Quick Cooking Oatmeal
1 tbsp. Dried Minced Onion
Sauce Ingredients
15-16 oz. Tomato Sauce (1 medium can)
1/2 cup Brown Sugar
4 tsp. Prepared Mustard
3 slices raw Bacon
Preparation
Place ground beef and oatmeal in a bowl and mix together until all oatmeal is incorporated.
Add onion and mix again. Set aside for at least 5 minutes. Meanwhile: In a separate bowl, mix tomato sauce, brown sugar and mustard until color is even. (If preparing ahead, store meat mixture and sauce separately until ready to cook.)
Break egg and pour over ground beef and mix together. Add half of sauce to meat and mix thoroughly. (This meatloaf is soft and juicy when unbaked, but firms up when cooked.)
Form meat into loaf about one inch smaller all directions than dish to be cooked in. Place loaf in center of dutch oven liner pan. Pour about a third of the remaining sauce over the meat. Place bacon strips over the sauce. Cover with remaining sauce. (Note: The sauce should coat the loaf, with the extra sauce settling to the bottom of the pan.)

Assemble dutch oven as shown in diagram below. Place coals both on top and bottom of oven. Start with about 8 to 10 coals under the oven and about 15 to 20 on the top of the oven. (If cooking indoors, merely place liner pan in oven.)

Assemble dutch oven

Bake in dutch oven for one hour at 350F. If making multiple recipes, increase cooking time. The best way to tell when the loaf is finished is by texture and temperature, as the meat will retain a slight red tinge from the sauce even when cooked. Please check temperature in the middle with a thermometer.
Notes
One recipe supposedly makes 4-6 servings. However, I recommend making two recipes at a time to allow leftovers for sandwiches. Two recipes make enough to feed 3-4 people 2 meals each.